Earn 1% cash back on all purchases.
Terms and Conditions apply.
It's not a credit card - it's an easy-to-use, secure place to keep your budget on lock with a cash back prepaid card.
One Card. Multiple currencies. Zero headaches.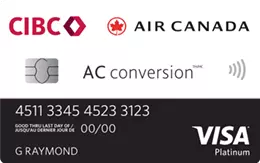 CIBC AC Conversion VISA Prepaid - Cash Back
Terms and Conditions
This offer applies to net purchases posted to your account between May 1st 2021 and October 31st, 2023. 1% cash back is earned on purchases less returns and credits in the currency in which the purchase was made Foreign exchange rates may fluctuate. The cash back will be credited with the foreign exchange rate on the day of credit which may not be the same rate as the day of purchase.
For this offer the following do not qualify as purchases: cash withdrawals, cash advances, balance transfers, payments and loads to card or Cheques. The cash back earned from this offer will accumulate each month and be posted as a credit to the account by no later than the month after it is earned. Prepaid card must be open at the time the cash back is awarded.
Offer applies to current prepaid card accounts. This offer may be withdrawn or changed without prior notice at any time. This offer may be revoked if you appear to be manipulating or abusing it, or are engaged in any suspicious or fraudulent activity, as determined by CIBC in its sole discretion. If your prepaid card is closed within the month prior to cash back we have the right to withhold cash back earned. Existing terms of the CIBC Prepaid Card Agreement and AC Conversion Terms and Conditions continue to apply.
Load on the go with the AC conversion™ Apps
.
Manage your card from the palm of your hand. Reload as you go so you never run out of currency on your trip.
Close navigation